The big question, how can we add button badge to our blogs? It's fun if it's free. Yes it's free, you just have to know some basic editing pictures, of your picture will do. Just add something or make someone who knows about editing to edit it for you. :19:
:106: Disclaimer:
I will be posting this not for my own benefit, but for my friend, Lhyzie. I don't intend to take any credits for this code or post.
Credits to: http://smilemonsters.blogspot.com and http://www.ebloggertricks.com
Luckily I still have the bookmark of their site, or else I wont be able to post this. 🙂
I wont give a step by step instruction since my friend only needs the code. :71: But of you are a bit advanced, you can use the code and just edit and input the stuff needed.
Here is the code: :99: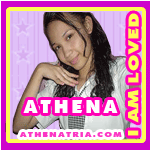 Just change [ and ] to < and >, then edit the url of site, title of blog, url of badge, paste the code on your site and voila, you know have the "Grab my badge" on your site!
Hope my compilation of the information I got from the two sites helped you. :93: Grab my badge if it did! :mwah: